BB Cream ni sangat popular kat Asia dan banyak artis2 Korea pakai ni. contoh artis korea kat atas tu...emm dier suke BB Cream Hot Pink..ramai lagi artis yg pakai..nati akma tepek gamba dorang k...
BB Cream ni ada org panggil 'krim ajaib' sbb die mampu memperbaiki kulit dan membuat make up menjadi lebih mudah. beza antara BB Cream dan produk kosmetik lainnya, BB Cream adalah kosmetik sekaligus perawatan kulit. Produk foundation lain kebanyakkannya hanya krim asa semata-mata tp tidak merawat kulit, tp BB Cream melakukan keajaiban dengan memperbaiki kulit.
Keajaiban pertama adalah sebagai essensial krim, menutrisi kulit, tegangkan dan menghaluskan kulit sehingga tampak selembut sutera...
Kedua sebagai sunblock, dengan SPF-15 yang melindungi kulit dari sinar UV yang dapat menyebabkan bintik hitam di wajah.
Ketiga sebagai alas bedak, membantu memperbaiki masalah kulit dan melindungi wajah dari bahan bahan kimia berbahaya produk make up lain.
Dan keajaiban terakhir adalah sebagai foundation yang membuat make up tampak sempurna dan wajah tidak berminyak sepanjang hari.
sesuai untuk semua jenis kulit, tidak menyumbat pori pori dan sgt best di gunakan setiap hari.
Jadi BB cream bukan hanya alas make up tapi skin care + make up.
Rajin2 la pakai BB Cream yer tuk kulit cantik cam artis korea...


General BB Cream characteristics:
• Natural glow on your face without makeup look
• Provides perfect coverage just like a foundation but without clogging pores or damaging the skin
• Conceals all types of pigmentation, discoloration, acne and marks
• Healing properties which soften, smoothen and refine skin
• Encourages skin regeneration to create and maintain youthful skin
• UV Protection for healthy skin
• Some BB creams have additional features such as wrinkle improvement, whitening functions etc.

JENIS-JENIS BB CREAM

Skin79 Hot Pink SPF25+ BB Cream
Whitening, Wrinkle Improvement, UV Protection(SPF25 PA++)]
Hot Pink BB cream-It is 3 effects functional beblesh balm.By Adenosine and Arutin ingredients which are effective in whitening, wrinkles improvement cultivate more bright and elastic skin.

Great for combination or oily skin.

Skin79 VIP Gold SPF 25+ BB 40g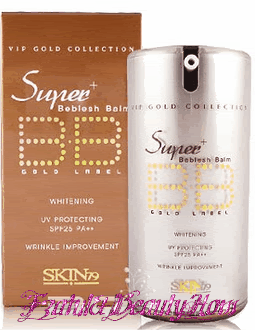 Whitening, wrinkle improvement, spf25 pfa++Awarded by Korean Goverment for its effectiveness on "wrinkle improvement, whitening and anti-UV"
Abundant nutrition of GOLD and CAVIAR EXTRACT cares skin intensively to make shiny, healty skin.
This product has excellent cover function by composition of makeup base and foundation.
It corrects your irregularly different skin tones naturally. At the same time by use of fine and soft texture porosity powder is excellent for your skin adhesion and sebum control.
This is W/S shap which is good for skin affinity and it make you skin light , soft and flawless all day long. for combination skin

M Perfect Cover BB Cream SPF 42 PA++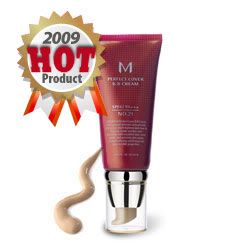 Colour Available


......................................
#23 Natural Beige...................#21 Light Beige

Blemish Balm, also call BB Cream, is known to have been formulated as an after-treatment cream to help patients who have gone through laser skin surgery to soothe and regenerate the skin.

The M Perfect Cover BB Cream gives an even and natural-looking coverage with the soothing, moisturising properties of a cream. It is suitable for all skin types including acne-prone skin, and can be used as a makeup base or foundation.

Missha M ORIGINAL BB Cream


Missha M ORIGINAL BB Cream is for all skin type even for skin have acne. if keeping use Missha M ORIGINAL BB Cream , your sensitive skin will be calm, protected from redness and keep its health.
This 4 in 1 multifunctional cream can soothes, moisturizes, protects and covers the skin.
Missha M bb cream supplies excellently concealing any types of pigmentation or discoloration area on face including acne, couperose, vitiligo, age spots, sun spots and dark circles.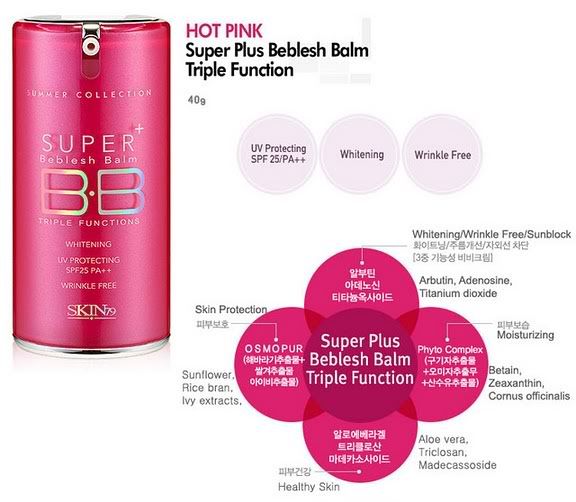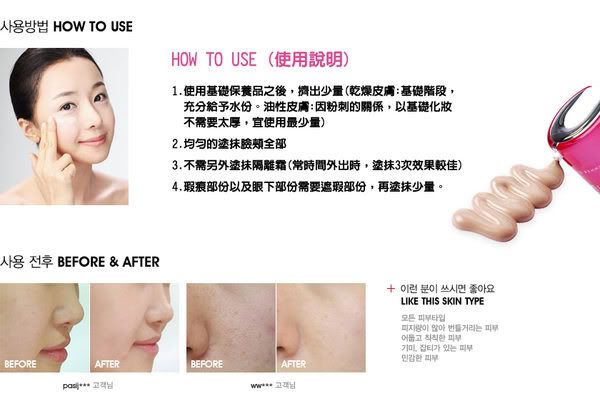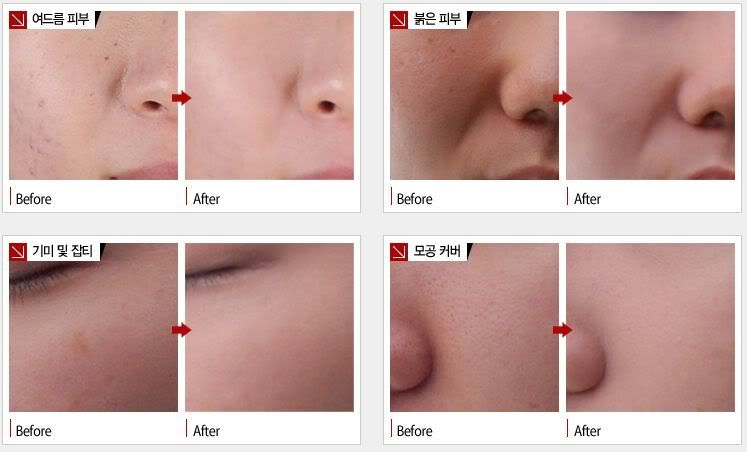 SKIN79 DIAMOND PRETIGE BB CREAM SPF25+


NEW and HOT!
The Prestige Beblesh Balm (BB Cream) 40g

Triple Functions:
Whitening + Wrinkle Improvemnt + UV Protecting SPF25 PA++
Properties: Oil-free, Whitening, Anti-wrinkle &
SPF 25 PA++

SKIN79 DIAMOND PRETIGE BB CREAM SPF25+TRIAL

SKIN FOOD ALOE VERA BB CREAM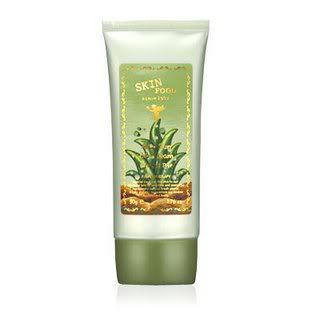 #1 radiant skin/light beige
#2 natural skin
Skin care dan make-up dalam satu cream, cream ini membuat kulit anda terasa lembab sekaligus memperbaiki/meratakan warna kulit. Kulit anda terlihat lembab, bersih, cerah dan segar! Kaya akan kandungan lidah buaya, melembutkan dan melembabkan kulit dengan se
mpurna. Dilengkapi dengan SPF 20. sgt sesuai untuk kulit kombinasi atau berminyak.
bb cream ni sgt cepat blending ke kulit... kuit akan nmpk lebih cerah tp natural... coverage bagus, pori2 nmpk kecik, bintik2 itam boleh cover dgn bb cream ni.


SKIN FOOD MUSHROOM MULTI CARE BB CREAM SPF 20 PA+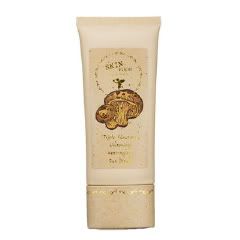 Product Info :
"A Triple function BB Cream ( whitening, anti-aging, sunblock) that contains skin friendly aloe & mushroom extract, adenosine and arbu
tin that helps to improve the appearance of fine lines & promotes brighter, more radiant complexion w/ UV properties."

Product Size :
50 grams or 1.76 oz.

Shades:
#1 for very fair skintones with pink undertones
# 2 for fair-medium skintones with yellow undertones

Dr.Jart+ Silver Label BB Cream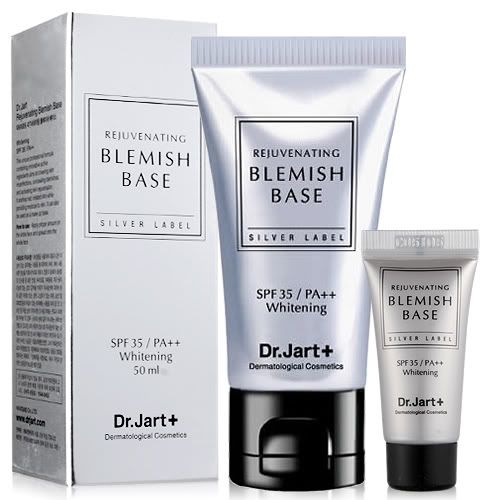 Product Characteristics
Matte type of double function BB cream perfectly covers scars and blemishes with bright skin tone and no troubles
Whitening and UV protection (SPF35 PA++)
Albutin ingredient makes skin tone bright and clear. whitening and UV protecting functions protect the skin from inner and outer harmful pollutants and make the skin healthy.
Controls sebum with no oily complexion
Sebum controlling function prevents oily complexion caused by excess sebum and secretion maintaining soft and moistureless skin.
Excellent coverage works on skin blemishes magically
Perfectly covers reddish skin and blemishes making the skin tone bright and balanced with soft and excellent application.

Protects and soothes sensitive skin
Safe to use on sensitive and troubled skin with ingredients like Hyaluronic acid, an excellent moisturizer, and Centella asiatica extract, excellent for calming the skin.

[BRTC] Whitening & R
epairing SPF37PA++ BB Cream
BRTC atau Bio Remedies Therapeutic Cosmetics adalah salah satu jenama yang paling dipercayai di Korea terutama rangkaian produk BB Creamnya.

Whitening & Wrinkle Repair BB cream merupakan salah satu produk terbaik BRTC.
Ia adalah "Multi-benefit cover cream" yang boleh memperbaiki dan juga melindungi semua jenis kulit dari pelbagai masalah yang disebabkan oleh persekitaran seperti udara yang tercemar dan sinar matahari. Ia juga memulihara kulit yang bermasalah dan dalam masa yang sama mengurangkan kedut, mencerahkan kulit dan meratakan warna yang tidak sekata.

Main Ingredients:
Aloe vera dan sumber semula jadi tumbuhan daripada extra bunga, daun dan akar pokok yang mempunyai antioksida yang baik untuk k
ulit.


Antara fungsi Whitening & Wrinkle BB Cream ialah sebagai:

- make up base
- foundation
- concealer
-skin damage care- UV protector
-moisturizer

ZAMIAN WHITENING BB CREAM SPF
Manfaat:
1. Mengecilkan pori-pori2. Membuat kulit elastis
3. Menyembuhkan jerawat
4. Mencerahkan kulit kusam (memutihkan)
5. Mengontrol minyak berlebihan
6. Menghaluskan dan mengontrol PH pada kulit
7. Anti penuaan
8. Melembabkan, memperbaiki tekstur wajah

SESUAI untuk kulit berjerawat, kusam, oily dan normal